Laguna Beach Accommodations
The perfect Laguna Beach accommodations await you! Our boutique hotel provides a selection of well-appointed guest rooms designed to make your SoCal getaway a relaxing, memorable experience from start to finish. Comprised of 14 stylish deluxe rooms in our North building or 54 standard rooms in our South building, guests can choose from a variety of rooms while visiting Laguna Beach - perfect for solo travelers, a group, or a couple looking to enjoy a romantic getaway by the beach.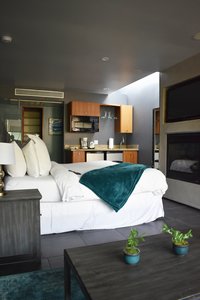 In-Room Amenities
Our lodging in Laguna Beach, CA provides guests with a number of tailored amenities designed to emulate a home-away-from-home experience for each guest. Enjoy:
A kitchenette w/ microwave and dinnerware (North Building)
Fireplace (North Building)
Complimentary high-speed Wi-Fi
Flat-screen TV
Our North Building accommodations is the ideal place to spend a cozy night curled up by your room's fireplace. After a restful night's sleep on a plush mattress, prepare a delicious breakfast in the kitchenette to enjoy on your suite's outdoor patio area.
While staying in the South Building, guests are treated to modern room decor, plush bedding, and all the in-room amenities of a traditional hotel room.
Whether you're traveling for work or leisure, our elegant Laguna Beach accommodations are sure to provide you with a lasting impression.